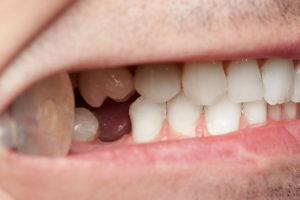 Are you missing a tooth? Then you probably have just survived yet another holiday season avoiding family photos because you are embarrassed by your smile. Sounds like it's time to find a solution!
In addition to feeling uncomfortable in social settings, filling a dental gap is important for a range of health reasons. If you need even more motivation to make 2020 the year you finally do something to improve your smile, check out these 4 ways a missing tooth can negatively affect your health – and how dental implants in Worcester can help.  
Why Replacing Missing Teeth Is Important
In addition to improving the appearance of your smile, it is also important to replace missing teeth for the following 4 reasons:
#1: Bone Loss – Without stimulation from the tooth roots, your jawbone will slowly deteriorate. This can leave your face looking sunken and aged.  
#2: Shifting Teeth – Although teeth seem set in place, they can actually slowly drift into the empty space left by a missing tooth. Dental drift can make it more difficult to clean your teeth and can also lead to bite problems.
#3: Difficulty Eating – Losing teeth can make it more difficult to eat a balanced diet. For instance, it is tough to break off bites of food without all your front teeth.  
#4: Speech Problems – Gaps in your smile may cause you to accidentally slur, spit or whistle when talking with others.
How Can I Restore My Smile?
Thankfully, there is a range of restorative treatments available that can restore both the function and appearance of your smile. The most common treatment options are:
Bridge – Custom-made crowns on either side of a false tooth. Dental bridges, which attach to adjacent natural teeth to remain in place, are an excellent way to replace one to three consecutive missing teeth.
Dentures – Artificial teeth and gums made from a hard resin. Full dentures can replace an entire missing upper or lower arch of teeth.  
Dental implant – A small titanium post that is surgically inserted into the jawbone to replace the missing tooth root structure and support a new crown.
Why Dental Implants in Worcester Are So Popular
Dental implants are fast becoming the most popular tooth replacement solution thanks to their longevity, natural appearance and the maximum support they provide replacement teeth. They are the only restorative option that restores both the tooth root structure and the visible portion of a tooth. Several implants can even be used to support dental prostheses such as bridges and dentures.
Ultimately, the best restorative treatment for you will depend on your unique smile issues and goals and should be determined in consultation with your dentist in Worcester. Start the year off right by calling their office today!
About the Practice
With a highly-trained team of dental professionals on staff, University Dental Group is equipped to meet all the dental needs of individuals in Worcester. They can even complete the entire dental implant procedure – from start to finish – at one location. To get in touch the team awarded Best Dentist in Worcester in 2018 by WM Worcester Magazine, visit the University Dental Group website or call 508-753-1911.