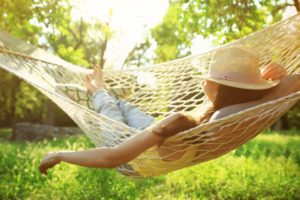 The sun is shining and the temperatures are rising, which means summer is here! It's the best time of year to relax by the pool, enjoy your favorite summertime snacks, and… have your wisdom teeth removed? Having your third molars extracted may not be the first thing on your summer to-do list, but it's the best time of year to get this important procedure out of the way. In fact, removing your wisdom teeth this summer can potentially save you a lot of time, money, and discomfort in the future, even if they're not bothering you yet! Read on as we go over why summer is the best time to have your wisdom teeth removed.
<!—more–>
Summer Is Tooth Extraction Season
You're probably not thrilled by the idea of spending some of your precious summer vacation on having your wisdom teeth removed. However, there are plenty of good reasons why summertime is the best season for tooth extractions of any kind, like:
The sooner your tooth is extracted, the better: Just because your wisdom teeth don't hurt now doesn't mean that will always be the case. Most people don't have room to accommodate these third molars, and when they try to come in, they can push against the surrounding teeth and damage them, or even become stuck in the jaw and infected! The earlier you have problematic wisdom teeth removed, the better off you'll be.
Summer means a more flexible and open schedule: Now that you're enjoying time off from school, clubs, and extracurricular activities, it'll be easier for you to schedule your procedure. You won't have to take time off from school or catch up on homework as you recover.
Summertime makes tooth extraction recovery a breeze: After your tooth extraction, you'll need to rest for a few days. During summer, you can relax comfortably at home, by the pool, or at the beach instead of in class or at work.
The Best Ways to Enjoy Summer While Recovering
Just because summer is the best time to have your wisdom teeth extracted doesn't mean that you have to be excited for your upcoming procedure. However, you don't have to dread it either! You can take full advantage of some of your favorite summertime activities while you recover, like:
Enjoy soft summertime snacks: Cold, soft foods are in abundance during summer, and they're the ideal food type for recovering from wisdom tooth extractions! While you should still make sure you're not eating too many sugary treats, now is the perfect time to enjoy ice cream, milkshakes, smoothies, popsicles, jello, and chilled applesauce.
Stay cool and hydrated: Drinking water is always important, but it's especially important to stay hydrated during the hot summer months. What's more, drinking water will help keep your extraction site clean and free of infection!
Enjoy some rest and relaxation: You should refrain from strenuous activity for at least a few days after your wisdom tooth extractions. It's the perfect time to sit back and relax in the pool, in your backyard, at the beach, while watching your favorite movie, or with a good book.
Remember, if your dentist has recommended that your wisdom teeth be extracted, it's because they suspect that these teeth could cause you problems in the future. Keep that sunny smile happy and healthy by getting your wisdom teeth extracted this summer.
About the Practice
At University Dental Group, we strive to make oral health care as easy and pleasant as possible for the families of Worcester and the surrounding communities. Whether you need a simple checkup and cleaning or a more complex procedure like wisdom tooth removal, we do everything we can to make it a pleasant experience. With a team of experienced dentists, the latest dental technology, and weekend availability, it's never been easier to get a healthy smile. To learn more about wisdom tooth extractions or schedule yours, we can be reached online or at (508) 960-6495.