All-On-4 – Worcester, MA
Secure Your Denture with Dental Implants
If you've lost all your natural teeth in one or both arches, you're not alone. In fact, at least 35 million Americans don't have any. If you're like many people who have experienced extensive tooth loss, you probably tried traditional dentures to replace your missing teeth. Although they are effective, they'll always have their limitations. You don't need to live with the slipping and irritation of a traditional denture. We can rebuild your smile from the root up to give you the next best thing to your real teeth using All-On-4.
How Do All-On-4 Implants Work?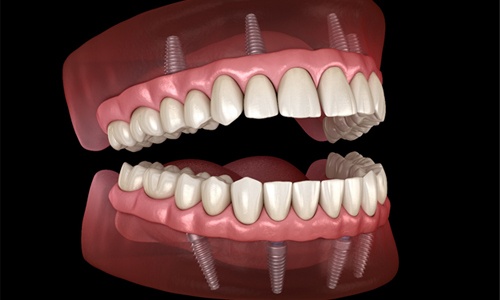 A full denture is the most conventional treatment to replace an entire arch of teeth. It's held in place using suction or an adhesive. While they've undergone several improvements, they will never feel natural. To resolve their disadvantages, dental implants can support your denture. Usually, 6 to 8 implant posts are used, which often means bone grafting is needed to ensure your jaw can support them all.
If you don't want to undergo an additional procedure, All-On-4 might be right for you. Only 4 implant posts are used to anchor your denture, often eliminating the need for bone grafting. Although fewer posts are required, you'll still enjoy the same superior results as a traditional implant-retained denture. The posts are inserted at an angle into the thickest parts of your bone to provide unmatched stability for your new smile.
Am I a Candidate for All-On-4 Implants?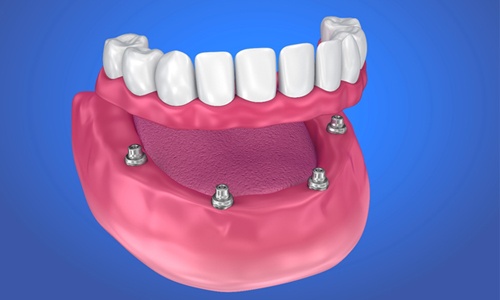 If a traditional denture didn't give you the results you wanted, you might be a candidate for All-On-4. Generally, if you have lost all your teeth in one or both arches, and you have good oral and general health, you're a candidate for the treatment. We'll still need to preform a thorough consultation and discuss your medical and lifestyle history to create a custom treatment plan to restore your smile.
What are the Benefits of All-On-4 Implants?
Using dental implants to support your denture allows you to enjoy a variety of benefits that aren't possible using a conventional treatment, such as:
Over a 95% success rate.
Looks natural to restore your confidence.
Regain as much as 70% of your natural biting force.
Preserves your jawbone's density.
Supports your facial tissues.
Doesn't require bone grafting.
Eliminates slipping and irritation.
Easy maintenance and care.
Long-term, cost-effective solution.
All-On-4 VS Traditional Dental Implants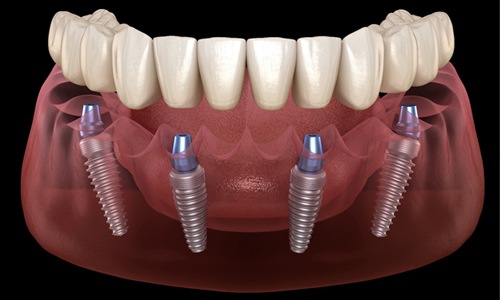 Traditionally, it takes several months to stabilize a denture with dental implants because there are various steps involved, like bone grafting, the implant placement surgery, and the denture fitting. All-On-4 streamlines the process without compromising the results.
4 implant posts are surgically placed into your jawbone. Instead of waiting months for your jaw to heal, we can fit you with a temporary denture the same day, so you won't need to go without any teeth while you are recovering.
Schedule an Appointment Today!
If you're ready to enjoy your favorite foods again, it's time to see if you're a candidate for All-On-4. Contact our office today to schedule your consultation.