Wisdom Teeth Extractions – Worcester, MA
Pain in Your Back Teeth?
Call Us!
Past generations may have relied on wisdom teeth when their molars would eventually fall out. However, wisdom teeth are largely seen as "evolutionary relics" to most experts, which means when they do inevitably erupt, they only cause harm to our oral health. While wisdom tooth removal is not always necessary, it's very unlikely that your mouth will be able to accommodate even just one additional tooth. If you start to notice pain in the back of your mouth and you're between the ages of 18 and 25, call our dental office today for an in-depth examination!
Why Choose University Dental Group for Wisdom Teeth Extractions?
Relaxing and Welcoming Dental Office and Team
Comprehensive Treatment Planning and Personalized Care
Convenient Operating Hours – Open Six Days a Week
What Does Treatment Entail?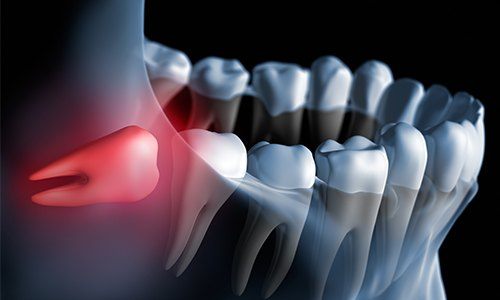 During your evaluation, we'll confirm if your wisdom tooth has erupted or if they have become trapped underneath existing gum tissue or neighboring teeth. If so, we'll create a small incision in your gum tissue in order to access the tooth, then gently break the tooth into smaller pieces for easier removal. If the tooth is fully exposed, we'll use an elevator to carefully remove the tooth from the periodontal ligament. Once removed, we can grab the tooth with a pair of dental forceps and extract it that way. Regardless of the method we decide, you'll be given numbing anesthetics to make your treatment as pain-free as possible.