Dentures – Worcester, MA
Revitalize Your Smile and Oral Health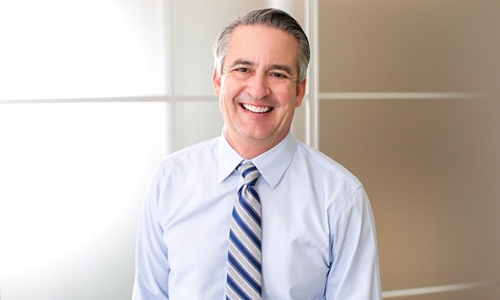 If you're suffering from missing teeth, you're not alone. In fact, almost 40 million Americans are currently missing all their natural teeth, according to the American College of Prosthodontists. Even if you still have some pearly whites remaining, gaps in your grin make it hard to accomplish daily tasks like talking and eating with ease. Your dental health and even your quality of life can begin to deteriorate if you don't have a confident, healthy smile. That's why, at University Dental Group, we offer three different types of dentures in Worcester to help you revitalize your smile and oral health. Contact us today to schedule a consultation to determine which type is right for you!
Why Choose University Dental Group for Dentures?
Detailed Treatment Planning and Highly Customized Restorations
Restore Your Ability to Smile and Eat Confidently
Open 6 Days a Week, Including Saturdays
Full Dentures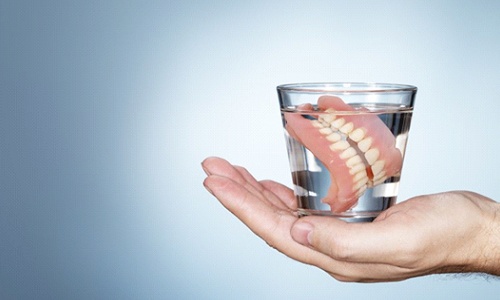 For patients who are missing all of their teeth on their top and/or bottom arch, we often recommend full dentures. A full denture is a set of custom-made prosthetic teeth attached to a pink acrylic base that's designed to conform to your specific mouth. The artificial teeth are constructed using materials that closely resemble tooth enamel, so you don't have to worry about onlookers wondering if your teeth are "real." You'll be able to smile with complete confidence!
Since full dentures are completely removable, you'll be able to easily remove them before bed or when it's time to clean them. During the day, they stay securely in place thanks to natural suction against the gums as well as denture adhesive, you can trust that they'll remain stable.
Partial Dentures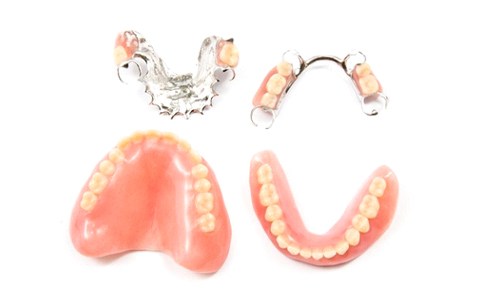 We usually suggest a partial denture for patients who are missing several teeth throughout their mouth. Much like full dentures, partials are made of realistic false teeth secured onto a gum-colored base. The main difference is that the base is connected to a metal framework that easily be removed and placed into your smile. The metal structure fits behind your remaining teeth to help prevent them from drifting out of place and giving you the appearance of a naturally complete set of pearly whites.
Implant-Retained Dentures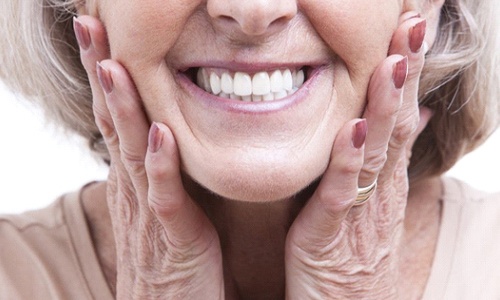 If you want replacement teeth that last longer and are sturdier than traditional full or partial dentures, we also offer dentures secured with dental implants. Implant-retained dentures, sometimes referred to as All-on-4, involve placing four to six small titanium posts into your jawbone to act as the roots of your lost teeth. By placing these implants at certain angles, they can be used to support a full or partial denture for decades to come. They also prevent jawbone shrinkage that often occurs after tooth loss.
Caring for Your Dentures
Although your replacement teeth can't develop cavities, they still need a strong foundation, which is why it's important to maintain excellent oral health. Use a non-abrasive denture cleanser and special denture toothbrush (our dentists can recommend specific products) to scrub plaque and food debris from them every day. This prevents bacteria from accumulating and infecting your gums.
For traditional full or partial dentures, you'll need to remove them before bed and soak them in a denture cleaning solution or room temperature water overnight. If you have a partial, it's also important to brush and floss your remaining teeth so you can keep them for as long as possible. Generally, you can brush implant-retained dentures as if they were your natural teeth.
Lastly, make sure to visit us for a dental checkup at least twice a year. At these appointments, we can ensure your gums are still in good health and determine when your dentures need to be relined or replaced.