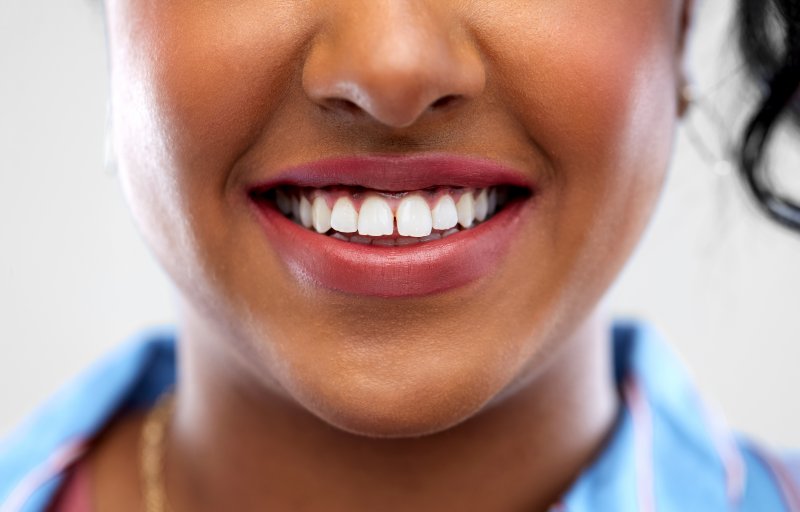 Ideally, all your teeth should have an equal space between them. For various reasons, the correct relationship can be interrupted, leaving you with a gap in your smile. As you read further, you'll learn about some of the possible causes of abnormal spacing in your front teeth, and how your cosmetic dentist in Worchester can help to remake your smile.
What Causes Gaps in Your Front Teeth?
A gap in your smile (formally known as diastema) most frequently appears between the two upper front teeth. However, a gap can also emerge between any other two teeth.
Here are some of the possible reasons for the poor spacing:
There is a mismatch between the size of the teeth and jawbone.
Missing or undersized teeth can cause those adjacent to it to move in an attempt to close the space, which can create entirely new gaps.
You may have an oversized labial frenum (the piece of tissue that extends from the inside of the upper lip to the gums). If it becomes too prominent, it can emerge between the two front teeth and expand their natural spacing.
The pressure applied from thumb sucking can push the front teeth forward and contribute to a gap.
Tongue thrusting, which involves pushing the tongue toward the teeth when swallowing instead of toward the roof of the mouth, can lead to a gap forming.
The good news is that no matter the cause of a gap, the condition is treatable.
Why You Should Fix Your Gap
If there's one trait about you that people will always notice, it's your smile. Thus, a gap in your front teeth can leave you feeling more self-conscious and less confident. Even if you're content with your appearance, if you have an abnormal gap in your smile, you should still visit your dentist for a checkup. That's because gapped teeth can also be a sign of gum disease. It can also be an indicator that your bite isn't functioning properly, which can lead to a painful chipped or broken tooth.
The Treatment Solutions for Gapped Teeth
If you're looking to fix your gapped teeth, the best person to turn to is your cosmetic dentist. He or she can provide the perfect care needed to not only improve your appearance, but also leave you with a more functional smile.
Here are two of the possible solutions:
Porcelain Veneers – Thin ceramic shells that are bonded to your front teeth, porcelain veneers are custom-designed by your dentist and fabricated by an in-network lab to mask any gaps in your smile.
Cosmetic Dental Bonding – By applying composite resin material directly to your teeth, and shaping and hardening it, your dentist can hide a gap and leave you with a brand-new smile in just one visit.
To learn more about the available options for upgrading your appearance and closing any nagging gaps, contact your University Dental Group cosmetic dentist today to request a visit. A new look and heightened confidence are yours for the taking!